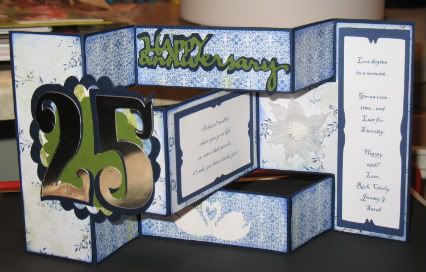 This was my first attempt with making what some people call a Tri-Shutter card. It was very fun to make and the embellishing options are endless since there are so many faces of the card to decorate. This one was made especially for my brother and sister-in-law's 25th wedding anniversary (and their last name is Swan - hence the swans on the card). I really like the way it came out and I can definitely see many more of these cards in my future.
I downloaded a cut file for the card from Okieladybug's craft blog (a link is in my sidebar to her blog) but you can also make these fairly easily without the file and using a Scor-pal (a link to their site is also in my sidebar).
If you have not tried one of these cards yet, what's stopping you!